I was checking to see if the game was back online and working (since i guess no one posts about it on this forum anymore). Anyways, on KB-A-0002 it says "Access to Thumbs.db is denied".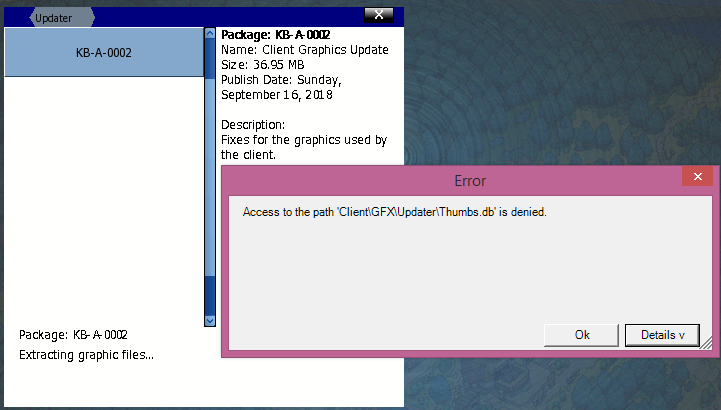 It always crashes when extracting.
I saw another topic and went to this link that was shared. I did everything that was shown there and it's still denied.
System.UnauthorizedAccessException: Access to the path 'Client\GFX\Updater\Thumbs.db' is denied.

Server stack trace:
at System.IO.__Error.WinIOError(Int32 errorCode, String maybeFullPath)
at System.IO.FileStream.Init(String path, FileMode mode, FileAccess access, Int32 rights, Boolean useRights, FileShare share, Int32 bufferSize, FileOptions options, SECURITY_ATTRIBUTES secAttrs, String msgPath, Boolean bFromProxy, Boolean useLongPath, Boolean checkHost)
at System.IO.FileStream…ctor(String path, FileMode mode, FileAccess access, FileShare share, Int32 bufferSize, FileOptions options, String msgPath, Boolean bFromProxy)
at System.IO.FileStream…ctor(String path, FileMode mode)
at PMU.Updater.PackageInstaller.ExtractAll()
at System.Runtime.Remoting.Messaging.StackBuilderSink._PrivateProcessMessage(IntPtr md, Object[] args, Object server, Object[]& outArgs)
at System.Runtime.Remoting.Messaging.StackBuilderSink.SyncProcessMessage(IMessage msg)

Exception rethrown at [0]:
at System.Runtime.Remoting.Proxies.RealProxy.HandleReturnMessage(IMessage reqMsg, IMessage retMsg)
at System.Runtime.Remoting.Proxies.RealProxy.PrivateInvoke(MessageData& msgData, Int32 type)
at PMU.Updater.Linker.IPackageInstaller.ExtractAll()
at UpdatePackage.UpdatePackage.Install(IPackageInstaller installer)
at System.Runtime.Remoting.Messaging.StackBuilderSink._PrivateProcessMessage(IntPtr md, Object[] args, Object server, Object[]& outArgs)
at System.Runtime.Remoting.Messaging.StackBuilderSink.SyncProcessMessage(IMessage msg)

Exception rethrown at [1]:
at System.Runtime.Remoting.Proxies.RealProxy.HandleReturnMessage(IMessage reqMsg, IMessage retMsg)
at System.Runtime.Remoting.Proxies.RealProxy.PrivateInvoke(MessageData& msgData, Int32 type)
at PMU.Updater.Linker.IUpdatePackage.Install(IPackageInstaller installer)
at PMU.Updater.UpdateClient.InstallDownloadedPackage(IUpdateCheckResult result, Int32 currentPackage, String packagePath)
at PMU.Updater.UpdateClient.<>c__DisplayClass3.<DownloadPackage>b__1(Object o, FileDownloadingEventArgs e)
at System.EventHandler`1.Invoke(Object sender, TEventArgs e)
at PMU.Updater.FileDownload.downloadBWorker_ProgressChanged(Object sender, ProgressChangedEventArgs e)
at System.ComponentModel.BackgroundWorker.OnProgressChanged(ProgressChangedEventArgs e)
at System.ComponentModel.BackgroundWorker.ProgressReporter(Object arg)
at System.Threading.QueueUserWorkItemCallback.WaitCallback_Context(Object state)
at System.Threading.ExecutionContext.RunInternal(ExecutionContext executionContext, ContextCallback callback, Object state, Boolean preserveSyncCtx)
at System.Threading.ExecutionContext.Run(ExecutionContext executionContext, ContextCallback callback, Object state, Boolean preserveSyncCtx)
at System.Threading.QueueUserWorkItemCallback.System.Threading.IThreadPoolWorkItem.ExecuteWorkItem()
at System.Threading.ThreadPoolWorkQueue.Dispatch()
at System.Threading._ThreadPoolWaitCallback.PerformWaitCallback()