good afternoon to all. this is griefy and some friends were telling me i should make a forum acc so here i am. ive been meaning to put this suggestion i have had floating in my head for a bit.
many players have stated a severe issue with lategame repetitiveness as well as lacking an incentive to use lv 100s as they are much less useful than lv 90s. lv 100s cannot gain exp and exp all does not work with them, so all pokemon killed using lv 100s are "wasted." most lv 100s are boxed forever as there is no point to using them, or repeatedly doom seeded so as to bump their level down, which is not a very good solution as it is tedious and expensive. having a lv 100 should not be a chore, it should be an accomplishment.
a popular suggestion to fix this problem is to remove the level cap and continue levelling past 100. however this has been met with resistance as being over lv 100 feels "not in line" with canonical pokemon games which im inclined to agree, and does not feel like the best solution to me as it will only continue linear progression and players will continue to hit walls until the next endgame dungeon comes out. i do, however, have a potential fix for this (though im not entirely sure if its feasible code wise, however it is worth a shot anyway.)
i propose a system like this: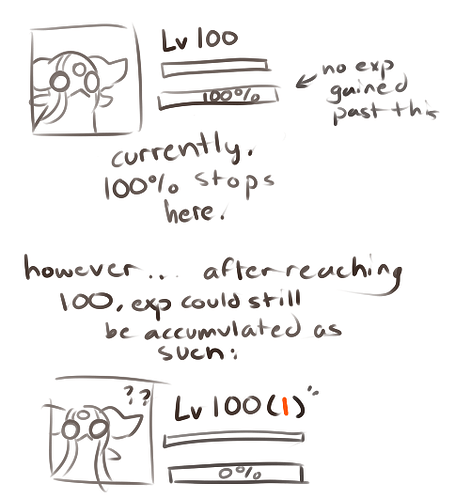 once a pokemon reaches 100, a counter could begin. this counter would be
theoretically
infinite, as in, 999 or something. these seperate levels could count as "points" that could be redeemed for special bonuses, and all exp that would otherwise be lost would go towards this counter. these "extra" levels could be calculated in the same way the normal level formulas are calculated, so levelling further remains a challenge.
as for what these points could do, i believe a menu or an npc (which could be locked behind a rank like croagunk perhaps) could be interacted with to allocate the points to a number of bonuses, either for the pokemon itself or passive boosts to all pokemon on a user.
some of these could be:
pokemon specific-
stat point allocations, 1-5 points at a time.
these could cap at perhaps 175% of a pokemons lv 100 stats and no further can be allocated after a certain threshold. say gastrodons lv 100 spatk is 290. the final stat could cap at about 507. this is a large difference, and would take a long time to get to, on top of managing all other stats.

certain abilities could be applied by a nerfed percentage.
some i considered were a serene grace type passive with a heavily nerfed % boost to additional effects that could cap at 15%, and adaptability, increasing STAB to 1.75x at cap. points could be allocated by 1% or .01x at a time, etc. others may include reckless, regenerator, and technician, all not as good as the actual abilities, but give a nice boost.

resistances to a type of ones choice.
some family items already restore hp when hit by a move of a type that a pokemon is weak to, so this isnt as useful as them, but would still be good. perhaps to keep this from being op, this would only be a -20% modifier.
account wide (which would have the same cap no matter whose points are used to prevent people from maxing the cap with one pokemon then continuing with another)-
exp boost for all pokemon on an account.
maybe a cap at 20%, but each allocation demands more points so that it is much harder to obtain than a miracle chest. this would be nice for people who want to start over from a new pokemon but would have a hard time justifiying training something besides their lv 100s.

a very small recruit rate boost.
similar to explorer ranks. this could cap at 5%, which is small but fairly significant. this could be expensive to earn.
etc, etc. these are just a few ways these theoretical points could be used.
this suggestion takes inspiration from both elsword (which sucks but has a similar mechanic) as well as pmu6 which also allocated stats based off of points one obtained via level up (by word of mouth anyway, i didnt play pmu6) and since this was already in pmu6, i feel this would be thematically appropriate to PMU, and maybe even feasibly implementable
following this, pokemon npcs in DUNGEONS would go past the effective level cap so there wouldnt be a need to have stat allocations to pokemon (which would be way too much code) and their stats are simply just bumped up by the leveling stat growth model already in place (similar to how exp would follow the same growth type past lv 100). the stats of npcs really do not matter as they are unrecruitable anyway and this would make them a challenge.
i feel like this
adds additional customization, which has improved in the past few years in pmu with the amount of held items, family items, and shinies, but could make ones pokemon feel more personal
addresses the discomfort of removing the cap because of pokemon tradition
creates potential for more lategame content
allows baby/NFE/weaker pokemon to continue gaining stats and be on par with very strong pokemon such as pseudos
is a feasible addition to the game
thank you for reading. feel free to respond with any input you have on this idea. i have been thinking about it for quite a while and i think it would satisfy a lot of problems with PMUs endgame and make it easier for staff to create challenges in the future with the potential such a mechanic has for a metagame.